Bloomington
Education
M.A. in Clinical Mental Health Counseling, Moody Theological Seminary, Chicago, IL
B.A. in Religious Studies, North Central College, Naperville, IL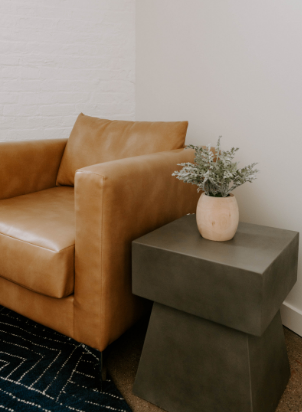 Specialities
Couples Therapy
Anxiety & Depression
Life Transitions
Faith Integration & Spirituality
Porn & Sex Addiction
Techniques
Gottman Couples Theory
Emotionally Focused Therapy
Porn Addiction & Impulse Control
Cognitive Behavioral Therapy
My Approach
Life transitions are never easy. You may be in the middle of a new job search, re-enrolling in school, starting a family, or experiencing grief or loss. Life swings in many directions! For you, this may look like non-stop negative thoughts, degrading self-talk, headaches, feeling alone, or some physical manifestation of stress in your life. Please know these physical feelings of stress, while frustrating or challenging, are normal and many people experience this. In the busyness of life, you deserve support and help to reform your sense of self-worth and create a clearer picture of your future.
"I had been to therapy many times before with many different therapists, but I always stop short after I started because I never felt understood by my therapist. Alex was different. I felt understood and heard right away and he was able to meet me where I was at."
"My boyfriend and I started seeing Alex when it felt like our relationship was about to explode. After meeting with Alex for a few sessions we were able to start to communicate with each other better and we started being able to resolve our conflict instead of it just looming over our heads."
"Alex was immediately able to understand my past struggles that were leading to my aggressive outbursts. After some Christian Integrated therapy, I was able to see the man I wanted to be, and a road to get me there. Even though there were bumps and turns along the way, I feel like I have the coping skills to help me be the person I want to be."
"I have never worked with a male therapist before, but feel like it stretched and challenged me in a new way. He really met me where I was at and it felt like an easy click to start working together. Honestly I tell my friends to go see him all the time!"
Reviews
Our clients' stories
Take your next step toward growth.