Annmarie Schoenbeck
She/Her/Hers
Chicago
Clinical License
Clinical Residency, June 2022-May 2023
Supervising Clinician: Alexandra Hoerr, LCPC 180.010561
Education
MA in Clinical Mental Health Counseling, Wheaton College Graduate School, Wheaton, IL, Conferred May 2023
BA of International & Global Studies, Portland State University, Portland, OR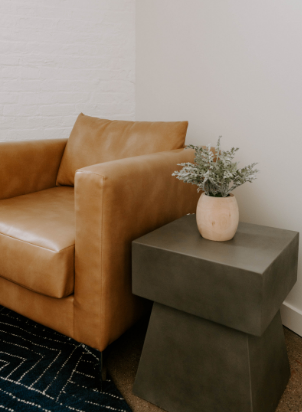 Specialities
Adulting & Responsibility
Anxiety & Depression
Dating & Romance
Gender Identity & Sexuality
Life Transitions
Loss & Grief
Techniques
Mindfulness & Acceptance
Cognitive Behavioral Therapy
Person-Centered
Humanistic
Attachment Theory
Psychodynamic
My Approach
Throughout life, you might find yourself living through seasons of immense pain, heartache, or uncertainty. Sometimes it feels like your experiences are too heavy for you, or for anyone else to carry. In moments like these, you might find yourself feeling isolated and without a clear path forward. It might feel like the map you once had to navigate life no longer takes you where you'd like to go. Regardless, choosing to trust another person with the heaviness of your experiences demonstrates great strength and courage.
"I was nervous to start counseling, but Annmarie has been a calming and safe presence in the counseling room from the beginning. She is a great listener and has helped me navigate through some difficult experiences. I am so grateful for my time with her and would recommend her to anyone!" -GT
"Annmarie gives space for my big feelings through validation, and she tells me the truth about myself when I can't see it. I feel comfortable sharing honestly with her because of how she reciprocates vulnerability. All of this contributes to my feeling safe with Annmarie and being able to count on her honesty. Overall, she has helped me feel more comfortable being myself. I am a better person, more forgiving person, and a less shame-filled person for knowing Annmarie." -DB
"Annmarie has been a safe space where I can freely express how I am feeling. She sits with me in my vulnerability and asks appropriate questions to help me better understand myself and emotions. I am much more gracious with myself thanks to her tender care." -MY
"During my darkest days, Annmarie met me with empathy and understanding. She was an incredible listener and gave intentional and thoughtful guidance. She strikes a wonderful balance of meeting you where you are at while gently and compassionately pushing you towards growth, healing and inner understanding. She showed me kindness, great insight, and maintained a hopeful presence of the goodness to come." -HS
Reviews
Our clients' stories
Take your next step toward growth.