Brenna Koss
She / Her / Hers
Chicago
Clinical License
Clinical Residency, June 2023-May 2024
Supervising Clinician: Alexandra Hoerr LCPC 180.010561
Education
B.A. in Political Science and French Language & Culture, University of North Carolina Greensboro
Student M.A. in Clinical Mental Health Counseling with Trauma Certificate, Wheaton College Graduate School, Wheaton, IL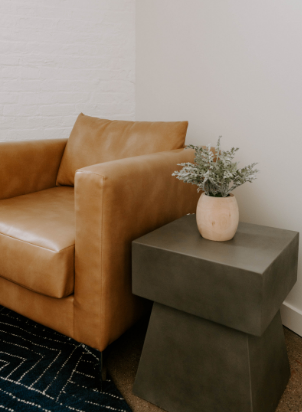 Specialities
Anxiety & Depression
Family Planning & Pregnancy
Attachment & Family Of Origin
Life Transitions
Trauma & PTSD
Techniques
Somatic-based Therapy
Attachment Styles
Mindfulness & Acceptance
Acceptance and Commitment Therapy
Person-Centered Therapy
My Approach
Relationships are one of the greatest gifts in life. They are essential and can be one of the most enjoyable aspects of your life. At the same time, relationships are work and you may find yourself feeling exhausted and even traumatized by them at some point in time. The weight of feeling stuck in your relationships or dealing with past trauma can affect your ability to focus on daily living and motivation levels. You may feel like you have hit an emotional wall that you cannot climb over. Being in this stagnant state can increase fear, insecurities, and overall anxiety levels.
"Brenna is a calm and grace filled presence for me lately. Talking to her feels safe. Feels like everything I say will be heard, and processed through. She is intentional with her words and fills spaces with much joy and sincerity." - S
"Brenna is an empathic listener and really makes me feel heard and understood while I am working through my problems."- MS

"When I talk to Brenna, I feel very seen. She has her full attention to the person she is talking to, and it makes them feel valued. She also asks really meaningful questions, which makes me feel challenged and reflective. I leave my conversations with Brenna with new understanding and joy!"- A

Reviews
Our clients' stories
Take your next step toward growth.