Bria Mccalpin
She/Her/Hers
Chicago
Clinical License
Illinois Marriage & Family Therapist 208.000977
Supervising Clinician: Alexandra Hoerr LCPC 180.010561
Education
M.A. in Couple and Family Therapy, Adler University, Chicago, IL
B.S. in Psychology, University of Illinois at Urbana-Champaign, Urbana-Champaign, IL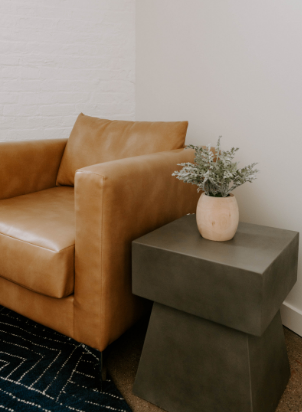 Specialities
Adulting & Responsibility
Anxiety & Depression
Attachment & Family Of Origin
Couples Therapy
Dating & Romance
Techniques
Collaborative Language Systems Theory
Strength Based Therapy
Marriage & Family
My Approach
When you face changes in your life it can spark a mixture of emotions.
Your response might be excitement to move into the unknown, or maybe concern over what change might entail. Change demands individual growth, taking necessary steps to use and build on the capabilities you already have, but it's hard work! Life is always changing though, so if you're caught in not knowing how to step into changing with it, then let's work to get you feeling comfortable with growth. Relationships within change can also be a struggle! Friendships, family dynamics, companionship, your own relationship with your self- they're meant to be supportive but that isn't always the case. Not feeling like you have a healthy support system in your corner can be overwhelming and isolating.
If you're facing a sudden change, one that you didn't choose or prepare for, then let's get you feeling grounded and connected! We'll ask together, "Is this healthy for me, or not?" There is beauty in community and knowing you don't have to face change on your own. I would be glad to join the people in your life who hope to see you improve, one step at a time in forward motion towards wellness. Change is scary, but you have resources within you to embrace change. Plus, we'll work to improve and increase your support network, leaving you feeling connected and celebrated in relationships.
"My husband and I realized our daughter had unhealthy coping mechanisms well after they showed up in her life. It was a shock! I wanted my baby to get the care she needed, but it took some couples work with Bria to realize that our parental relationship had a big part of why my daughter was feeling a negative impact. It was a moment of humility and learning that I think only took place with the grace and direction we got from our work with Bria."
"It's easy to feel scared to share, especially fearing my raw emotions are too big or will get best of me. Bria actively listens, and her patience and presence helped me move from dreading therapy to looking forward to spending time together."
"Working with Bria has been such a POSITIVE experience! Even thought some of the subject matter we cover is difficult, Bria bring so much light to our conversations. I can't remember a session where we didn't have at least one good laugh together."
"Being a sole caretaker for my grandkids, one with ADHD, is sometimes an overwhelming responsibility and in many ways stretched me beyond what I thought I was capable of. In my work with Bria, I was able to have a moment to breathe, asses where me and my family were at, and by supporting myself, better support my grandchildren. She really helped me gain perspective and create a plan."
Reviews
Our clients' stories
Take your next step toward growth.