Chicago
Education
MA in Clinical Mental Health Counseling, Wheaton College Graduate School, Wheaton, IL
BS Psychology, BS Sociology, College of Charleston, Charleston, SC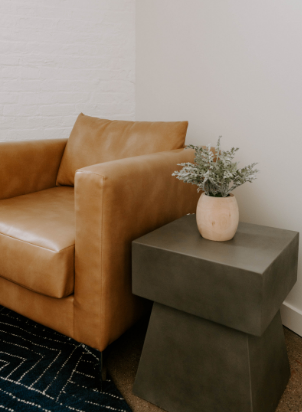 Specialities
EMDR & Prolonged Exposure (PE)
Trauma & PTSD
Attachment & Family Of Origin
Teenagers
Loss & Grief
Techniques
Trauma Treatment: EMDR & PE
Trauma Treatment: Prolonged Exposure
Strengths Based Approach
Person-Centered Therapy
Play Therapy
My Approach
There is hope and healing; even when it might not feel like it.
Maybe your anxiety is becoming too difficult to manage, or your relationships aren't working. You might feel lost or stuck, or like you can't move beyond that one thing from your past that keeps bubbling up. Whatever you're struggling with at this moment (and we all have something!) I'm glad you've found your way here.
The unfortunate reality is that life is hard. Nobody makes it through unscathed, and when you have experienced trauma the potential for healing can feel impossible. Even though trauma is pretty widely experienced, it can feel incredibly isolating. The effects of trauma are real, complex, and often intense. If you're facing them by yourself it can be easy to get stuck with no clear path forward.
Research shows that trauma and overwhelm gets stored in our bodies. You may not even be consciously aware of all the impact experiences have on you, but you know you have a strong bodily and emotional response in the moment. Because trauma is stored in the brain and body, it is vital to integrate brain research and expressive modalities into our plan for you. Specifically I utilize Prolonged Exposure (PE), EMDR, and other treatment approaches in order to process trauma and PTSD on all levels.
"I don't think I could say enough good things about Clair. I struggled to even name what I was feeling, and she helped guide me through it in a patient and insightful way. She's easy to develop a rapport with, and I always felt like I had her full attention. She was receptive to me guiding the conversation, and was willing to guide it when I didn't know where to go. Her insights and observations were matter-of-fact in a way I really appreciated."
"I'm very thankful for the time I got to work with Clair. She understood where I was coming from and cared about me, and helped me deal with the darker stuff in my past."
"We are seeing changes in our daughter's behavior here at home, and she looks forward to going to school and therapy! She has the tools she needs."
"Clair helped me cope with my anxiety, and opened my eyes to root issues that I wasn't aware of. I feel like I can better focus on my work, and I know what to do when I start to feel the anxiety creeping in."
"I was nervous about seeing a counselor, but it ended up being very helpful. Clair provided great insight but also challenged me, and worked with me through the difficult aspects of my relationship."
Reviews
Our Clients' Stories
Take your next step toward growth.