Chicago
Clinical License
Illinois LPC 178.018822
Supervising Clinician: Alexandra Hoerr, LCPC 180.010561
Education
M.A. in Clinical Mental Health Counseling, Trinity International University, Deerfield, IL, conferred May 2022
B.A. in Secondary Education & Social Science, Tabor College, Hillsboro, KS
B.A. in Biblical Studies, Christian Leadership, and a Minor in Psychology, Tabor College, Hillsboro, KS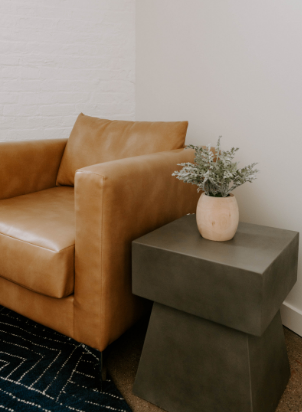 Specialities
Childhood Trauma
Faith Integration & Spirituality
Attachment & Family Of Origin
Artists & Performing Arts
Career & Purpose
Loss & Grief
Religious Trauma & Church Hurt
Techniques
Attachment Theory
Narrative Therapy
Cognitive Behavioral Therapy
Emotion-Focused Therapy
Trauma-Informed Recovery
Acceptance & Commitment Therapy
My Approach
Have you ever found yourself waking up to start a new day, but it looks like the one before?
This can seem like running in place on the treadmill of life, not really getting anywhere but certainly working up a sweat! Essentially, you're stuck. Your past lingers in your mind, reminding you another mistake is coming in the future, so why even try? The frustration and confusion of being stuck but not being able to move forward can, in a moment, bring up an overcoming surge of emotions you can't control. All of this can compound into fear of stepping into the unknown, especially if childhood traumatic experiences are an impact.
Positive change takes time and might look like setting goals you're working toward accomplishing, taking a risk to start a new relationship with the special someone in the same friend group, or going after that job promotion posted on your company's website. Fear poses as your friend to keep you safe, minimizing risks. However, fear is not friendly and forces you to entertain anxiety, depression, and trauma-induced stress. In order to move towards positive risks and change, we will explore fear's role in your life so you can be free from its burden.
"I've been to therapy before, but didn't get any breakthrough. Cotorey really asks probing questions to get to the heart of the issue. Big discernment abilities!"
"I appreciate Cotorey's emotional intelligence. He knew what was up with me and it helped me feel super seen and heard."
"I loved having a fellow artist as a therapist. Therapy is great generally, but we were able to put a creative spin on our work."
"Being a black man meant only being strong, but I've learned to be strong as well as vulnerable, warm, and inviting. Cotorey really modeled that for me."
Reviews
Our clients' stories
Take your next step toward growth.