Chicago
Clinical License
Clinical Residency, June 2022-May 2023,
Supervising Clinician: Alexandra Hoerr, LCPC 180.010561
Education
Student MA in Clinical Mental Health Counseling, Moody Theological Seminary, Chicago, IL
BA in Business Administration, Ross School of Business, Ann Arbor, MI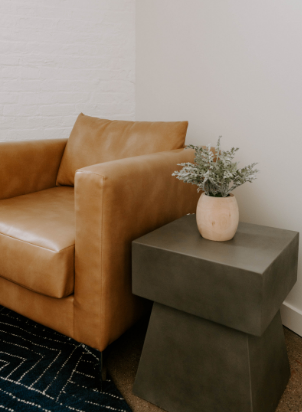 Specialities
Anxiety & Depression
Couples Therapy
Discernment & Divorce Counseling
Domestic & Intimate Partner Violence
Trauma & PTSD
Techniques
Existential Therapy
Feminist & Social Justice Theory
Mindfulness
Narrative Therapy
My Approach
Do you struggle to find your voice in relationships or create and maintain healthy boundaries?
Challenges like these can leave you feeling resentful, lonely, confused, and tired. Or maybe you're feeling overwhelmed by all the roles you play in your life and the life of others. Your default mode is to take care of everyone else, and somehow you're left with little to no time and energy for yourself. Or maybe you're pretty satisfied with the way things have been going in this season of life, and you're looking to gain skills and insight to grow and mature in self-awareness and self-acceptance. Starting counseling, especially with a new person, can feel daunting. But taking the first step can lead you to transformative experiences.
"I've been doing work to understand my anxiety and looking into childhood experiences that could be contributing to my current life circumstances. It's hard and sometimes scary work, but I feel very cared for and supported by Crystal. She listens well, validates me when I need it, and always speaks honestly in a compassionate way." - LK
"I was going through a challenging season in a very difficult relationship. Crystal offered me a safe space to process my thoughts, to see things with clear eyes, and to understand that I am empowered to choose how I want to live my life vs being a victim to my circumstances." - SJ
"Crystal is very collaborative in her approach. She is trustworthy and insightful in offering a fresh perspective on relationship issues." - VN
Reviews
Our clients' stories
Take your next step toward growth.