Elise Champanhet
She/Her/Hers
Education
M.A. in Clinical Mental Health Counseling, Moody Theological Seminary, Chicago, IL
B.A. Intercultural Studies, Moody Bible Institute, Chicago, IL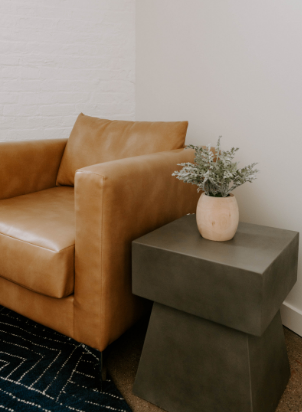 Specialities
Trauma & PTSD
Multi-cultural & International
Chronic Health Concerns
LGBTQIA+ & Queer Concerns
Personality Disorder
Techniques
EMDR
Utilize Dialectical Behavioral Theory
Narrative Therapy
My Approach
A lack of direction in your individual story can make life appear aimless and lacking purpose. Maybe you have a story that is difficult and complex to tell, isolating you from others. It's possible you don't even understand the narrative progression of your life! How are you supposed to ground yourself in confidence when you are unsure about your purpose?
Narrative therapy is looking at your whole life story from a positive, empowering perspective and honestly asking, "What's working right now?" We'll identify how you kept strong in life, while also  evaluating what isn't serving you well. Everyone has faulty narratives developed from previous experiences that operate in our current life that mess us up! We will work together to examine those faulty narratives and do the hard work of correcting them.My goal is that you would leave our time together with a strong sense of the story that makes you uniquely human.
We will do exactly that by exploring your own unique story! If you feel helpless in your current circumstances, I can come alongside you by providing comfortable space for you to move into forward motion. The path towards restoration, healing and hope is close.
"I started seeing Elise when everything in my life changed all at once. I was facing a lot of loss and my identity felt shaky. Our work together helped me feel like I reclaimed my sense of identity in line with my values."
"Elise was immediately able to understand my struggles and put my doubts about therapy at ease. I felt heard and knew that she would work with me to understand my challenges from my perspective."
"Even though we come from very different backgrounds, I never felt judged by Elise. She met me where I was at and let me know that my opinions mattered."
"I didn't even know that I needed to do narrative therapy work. I came into counseling not know what I needed to work on but that something was off. Elise guided me and helped me make the most out of my counseling experience."
"My time with both therapist have been very beneficial to personal development and growth through building up my trust & inner-voice. It has also helped me make the connections of the root of the problem & the current problems that I face. Pam has helped greatly with sorting through while Elise helped source how triggers, emotions, and challenges manifest in my body." KW
Reviews
Our clients' stories
Take your next step toward growth.