Maddie Sansom
She / Her / Hers
Chicago
Clinical License
Clinical Residency, June 2023-May 2024
Supervising Clinician: Alexandra Hoerr LCPC 180.010561
Education
MA in Clinical Mental Health Counseling, Wheaton College Graduate School, Wheaton, IL
BA of Psychology with minor in Biblical and Theological Studies, Lee University, Cleveland, TN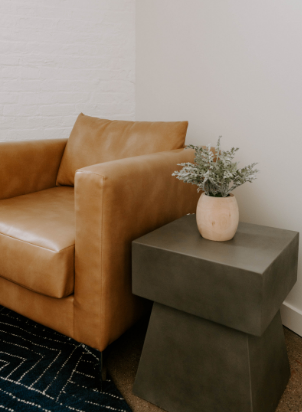 Specialities
Anxiety & Depression
Attachment & Family Of Origin
Faith Integration & Spirituality
Life Transitions
Trauma & PTSD
Techniques
Emotion Focused Therapy
Cognitive Behavioral Therapy
Person-Centered Therapy
Mindfulness & Acceptance
My Approach
Life is rarely ever simple and easy. We are complex human beings with complicated life circumstances and emotions that can sometimes be too much to carry on our own. You may be facing anxiety, relationship stress, confusion, sorrow, stressful life transitions or maybe you are carrying the burden of trauma and abuse on your shoulders. Perhaps you are wondering how you got here and don't know where to start towards healing. You are not alone and there is hope for you. You are so much more than a situation or feeling. Amidst the heartache and the burdens, joy and peace can be found.
"I feel heard in a special way. Maddie is someone who listens when you are talking. When I'm speaking I can tell she is actually listening to the words I am saying and seeking to understand me, and to me that means so much." AJ

"Maddie is someone who is empathetic and cares when people are hurting. She doesn't shy away from what needs to be asked because she cares enough to bring it up." BL

"Maddie is someone who does not give up easily. She is passionate about what she does and it is evident that she has devoted her work to caring for other people's needs." ZH
Reviews
Our clients' stories
Take your next step toward growth.