Megan Hanafee-major
She/Her/Hers
Education
PsyD candidate in Clinical Psychology, Midwestern University, Downers Grove, IL
MA in Clinical Psychology, Midwestern University, Downers Grove, IL
BA of Psychology, Trinity Christian College, Palos Heights, IL
BA of Communication Arts, Trinity Christian College, Palos Heights, IL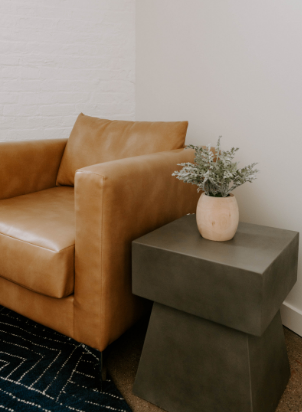 Specialities
Couples Therapy
Childhood Trauma
Gender Identity & Sexuality
LGBTQIA+ & Queer Concerns
Sexual Health & Functioning
Parenting & Co-parenting
Techniques
Emotionally Focused Therapy
Feminist & Queer Theory
Family Systems Theory
Trauma-Informed Therapy
Attachment Theory
My Approach
Maybe your life has changed and you're not sure where you're headed anymore.
It can be overwhelming to feel like you've lost yourself. Does it feel like the 'you,' inside might not live up to the 'you,' that lives, breathes, and presents yourself out in the world? When neither feels like the authentic person that you want to be, it's difficult to know where to ask for help, what is wrong, what's off balance, or even where to begin. Even if neither of these things feels totally right, the answer lies in finding the balance between the two of them, and creating your own meaning. Life is full of challenges ranging from small bumps in the road to extreme detours, but wherever you are at, you don't have to navigate it alone. I'm excited the journey has led you here.
"I have been to a lot of therapists over the years, but none that I connected with like Megan. She didn't make me feel weird or judged. I like to think we learned from each other."
"Marriage counseling was helpful as we reconnect in our relationship after our separation. We learned about attachment styles and how trauma affects our marriage so we can communicate our feelings better."
"I have seen such improvement in my child since he started therapy. We don't argue anymore and he is doing better in school. He can manage his anger on his own and hardly has outbursts now."
Reviews
Our clients' stories
Take your next step toward growth.