Melissa Del Carmen
She/Her/Hers
Clinical License
Illinois LPC 178.017176
Supervising Clinician: Alexandra Hoerr, LCPC 180.010561
Education
MA in Clinical Mental Health Counseling, Wheaton College,
Wheaton, IL
BA in Psychology, Liberty University,
Lynchburg, VA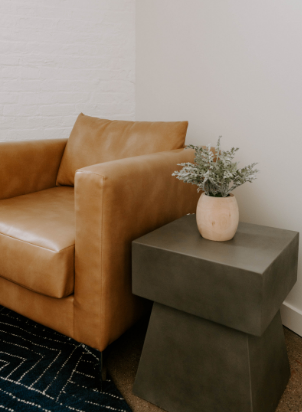 Specialities
Anxiety & Depression
Childhood Trauma
Life Transitions
Re-assimilation & Culture Shock
Attachment & Family Of Origin
Techniques
Cognitive Behavioral Therapy
Psychodynamic Theory
Multicultural Assimilation & Development
My Approach
Life seems like it's in constant motion.
Without taking moments, you may not be realizing the changes that are taking place in your life. When the unexpected happens, disconnection can follow. Disconnection from your own life. Disconnection from others. Especially in unprecedented times the realities of stress, loss, and confusion may feel like they're closing in on you.
The depths of these emotions can sometimes feel foreign. Ways you've known how to deal with these emotions and experiences may not be as helpful as they once were before. Our bodies are wise and tend to attune to our experiences and significant events with our emotions. In your attempts to explain thoughts or feelings, discomfort may be rising within you. You may not have words for it all, but your body is telling you something through emotions. That can be overwhelming. It may be time to reconnect again. You might feel scrambled to instinctively fix everything about your situation but there is value in sitting with your emotions for a moment. There is value in truly hearing them before acting. They are there for a reason. Let's sit with your experiences as they are and allow proper healing to take place. Healing that will lead to action.
"Melissa has walked with me throughout my most trying times. I was able to get through impactful transitions in my emerging adulthood because of the motivation we uncovered together. At my lowest, Melissa was there to support me, and I cherish all of her efforts."
"Melissa is the best encourager. When I'm around her I feel supported and loved for who I genuinely am."
"Melissa listens to me whenever I need some support. She reassures me that everything is going to be okay."
"Sometimes my anxiety feels like I'm spiraling out of control inside, and I have felt like some of my circling thoughts were truly unstoppable before working with Melissa. I still face some tougher days, but more and more of them I'm feeling a sense of being capable and gaining more control"
Reviews
Our clients' stories
Take your next step toward growth.