Natasha Beals
She/Her/Hers
Chicago
Clinical License
Illinois LSW 150.109032
Supervising Clinician: Alexandra Hoerr, IL 180.010561
Education
M.A. in Clinical Concentration, University of Chicago, Chicago, IL
B.A. in Management, Loyola University, Chicago, IL
Associate in Graphic Design, International Academy of Design & Technology, Chicago, IL
Associate in Business Administration, Northwestern College, Chicago, IL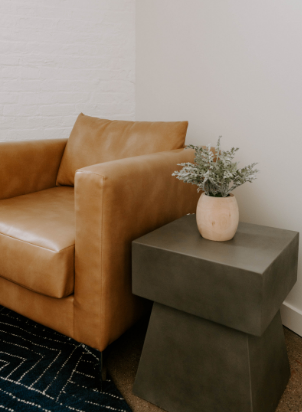 Specialities
Anxiety & Depression
Career & Purpose
Trauma & PTSD
Faith Integration & Spirituality
Life Transitions
Techniques
Mindfulness & Acceptance
Cognitive Behavioral Therapy
Meditation
Acceptance & Commitment Therapy
Narrative Therapy
Motivational Interviewing
My Approach
You struggle to make it through the day without shedding a tear. There is a constant worry about everything. It is the feeling of the weight of the world on your shoulders. The feelings of anxiety, fear, loneliness, or hopelessness keep you from living a life of peace. It is hard to be in the present moment because the thoughts of your past are preventing you from moving forward. You want to live a life full of joy, but if you could only stop thinking negative thoughts such as "What is wrong with me?" "I will be alone for the rest of my life," "I wished I could have done this differently," or "Will I ever be loved?" These thoughts keep you awake at night, fill you with fear, cause isolation and interfere with your relationships with loved ones. Negative thoughts are the worst thoughts to have, and you are searching for help to eliminate the pain that the negative thoughts are causing.
What you are experiencing is normal, and many humans are where you are right now. You just want to be happy with your life. You are ready for a peaceful and loving life. This is what you deserve, and this is what we will achieve together.
"I cannot thank Natasha enough for guiding me and through some of my life choices and pushing me to always do better. My life is getting better, my anxiety and my fears have diminished. I still struggle a bit with my anger but Natasha has helped me to control my anger and respond in a much better way. I truly enjoyed and cherished our time together. She is truly an amazing person!" - SH
"I am so proud to call Natasha a colleague of mine. She is an incredible addition to the social work field. Natasha is a dedicated, compassionate and hardworking therapist." - CR
"Losing a child is never easy. My life is filled with constant grief and pain. Trauma isn't easy. Natasha provides me with techniques that are helping me to deal with my pain. I have learned how to be in the present moment with my grief. My relationships with loved ones are improving and my self-love is growing stronger everyday." - RF

Reviews
Our clients' stories
Take your next step toward growth.