Pamela Larkin
She/Her/Hers
Chicago
Education
PSI/2020 Mom Online Maternal Mental Health Certificate Course
M.A. in Clinical Psychology, Wheaton College Graduate School, Wheaton, IL
B.S. in Science in Education and Social Policy, Northwestern University, Evanston, IL
B.S. Concentration in Human Development and Psychological Service, Northwestern University, Evanston, IL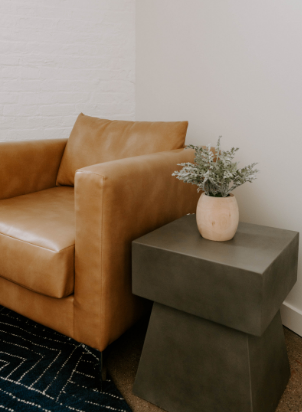 Specialities
Attachment & Family Of Origin
Life Transitions
Loss & Grief
Techniques
Attachment Theory
Emotion-Focused
Motivational Interviewing
Mindfulness & Acceptance
Cognitive Behavioral Therapy
My Approach
Maybe you're looking for healing and restoration around a painful event, fertility journey, pregnancy, or postpartum experience. Are you searching for your voice, meaning, and hope? Your faith and spirituality are important to you, but do you experience disconnect in knowing how to live a transformed life? Do you just want to be a more authentic person and know counseling helps in some way with that?
Thankfully, whatever is bringing you here does not have to be examined and expressed on your own. The truth is, with counseling, you don't have to be alone.
"This is the SAFEST space I have ever had. It allowed me to address all the things that concerned me." -JW
"I felt at ease and an immediate connection with Pam. She has a way of making me feel very comfortable, and naturally creates a space to shed new light on things I used to think were just 'issues.' I look forward to seeing her each week, and I'm really happy to be in Pam's care."
"Anxiety and depression are valid on their own, but in my circumstance I maintain a close relationship with a family member who suffers from severe mental illness. I have really struggled with basic communication and support for my loved one before meeting Pam. I feel like she was able to hear and pinpoint what's actually going on, and she's given me tangible tools that help me cope with my circumstance. We love Pam and are very happy she's part of our continuing journey."
"Pam is very kind and patient. I've learned so much about myself through my therapeutic relationship with her, and she's really helped me recognize healthy and unhealthy patterns in my life in a way that didn't make me feel abnormal. Her guidance has left an impact on me for sure."
"My time with both therapist have been very beneficial to personal development and growth through building up my trust & inner-voice. It has also helped me make the connections of the root of the problem & the current problems that I face. Pam has helped greatly with sorting through while Elise helped source how triggers, emotions, and challenges manifest in my body." KW
"I started off therapy thinking that feelings aren't practical. I'm realizing that maybe I don't have to be on high alert anymore.
"I enjoyed how kind and understanding she is. I think she did a great job at validating my feelings and trying to put herself in my shoes."
"10/10 would recommend. Thank you for your time and thoughtful consideration, Pam!"
"Pam really helped me identify patterns in my behaviors when in relationships as well as helping to give me perspective and coping strategies when dealing with things that were outside of my control (such as my very long and arduous job search)."
"She helped me manage my anxiety and stay in the present moment. She is easy to talk to, empathetic and expressive."
"The suggestions and resources made help better equip me for things that are happening in my life."
"Therapy helps, it's a non-biased, and nonjudgemental space"
I have brought up things in therapy that were not my therapists area of expertise. Instead of referring me elsewhere or responding in the moment with something less helpful she said "let me do some research and get back to you". The next session she was fully prepared with a plan of action for my concerns and she worked with me to fully resolve the issues I was having. Pam has been incredibly patient and meets me exactly where I'm at with each session while gently prying at the things I need someone to pry at. She's amazing!
Optimum Joy stays true to its name. Everyone I have encountered and/or worked with at the organization has done a wonderful job of putting me at ease and making me feel at home.
Reviews
Our clients' stories
Take your next step toward growth.