Chicago
Clinical License
Illinois LPC 178.017087
Supervising Clinician: Alexandra Hoerr, LCPC 180.010561
Education
Master of Counseling, Spring Arbor University, Grand Rapids, MI
Bachelor of Business, Western Michigan University, Kalamazoo, MI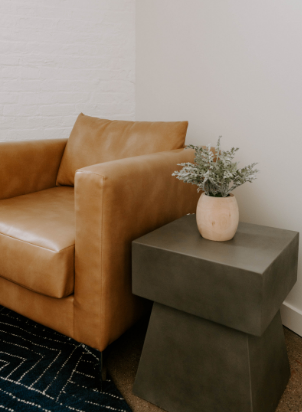 Specialities
ADHD & Attention Focus
Anxiety & Depression
Gender Identity & Sexuality
Loss & Grief
OCD Treatment
Trauma & PTSD
Techniques
Cognitive Behavioral Therapy
Rational Emotive Behavioral Therapy
Person-Centered Therapy
Narrative Therapy
My Approach
Nobody has a life free from pain. No matter how many times you give yourself the pep talk that everyone struggles, you may still have the nagging sense that others have things "figured out" and you don't. The narrative of "my struggles make me less of a person than others who seem to have it all together" is a lie. This thought has the power to make you feel lonely, weak, hopeless and rob you of your sense of self-worth. Trauma, grief, anxiety, depression, intrusive thoughts, interpersonal conflict, loss of direction in life, a broken relationship, or something unidentifiable that maybe can't be named right now can all be effects manifested from these types of beliefs. The truth is life presents all of us with challenges that can come out of nowhere and are often unwarranted.
"I can't believe the growth I saw. I had been trying to manage things on my own for so long, but after my time with Pete, I feel empowered and confident that I'm equipped with the right tools."
"The things I came to counseling to talk through were difficult, but Pete made me feel like I could trust him very quickly and he always let me go at my own pace."
"I looked forward to my session every week. The conversations we had and the questions Pete asked helped me learn more about myself and what I want my future to look like."
"When we had to switch to telehealth because of COVID and I was nervous, but Pete helped me through the process. I was surprised that our telehealth sessions seemed just as productive as meeting in his office."
Reviews
Our clients' stories
Take your next step toward growth.