Chicago
Clinical License
Supervising Clinician: Alexandra Hoerr, LCPC 180.01056
Education
MA in Clinical Mental Health, Northeastern Illinois University, Chicago, IL
BA in Psychology, Southwest Baptist University, Bolivar, MO
BA in Public Relations Communication, Southwest Baptist University, Bolivar, MO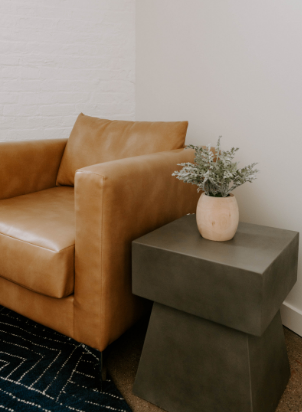 Specialities
Anxiety & Depression
Life Transitions
Religious Trauma & Church Hurt
LGBTQIA+ & Queer Concerns
Couples Therapy
Techniques
Person Centered Therapy
Cognitive Behavioral Therapy
Existential Therapy
Acceptance and Commitment Therapy
Emotion-Focused Therapy
My Approach
Life isn't always easy. You may find yourself moving from day to day, and beginning to feel like you don't really know yourself anymore. Maybe you have thoughts you feel you can't control, or a deep sadness that just won't go away. People may have caused you pain or caused you to doubt what you once believed, and you feel stuck, unsure how to move forward. These thoughts and feelings can be so lonely. As the pressures of life and your own self-doubt build up like a tower, the things you used to love can get lost, leaving you feeling confused and alone. Whether the source of your pain is from the church, your loved ones, a shifting faith, or a complete mystery to you, healing is possible. Seeking help and agreeing to be vulnerable, can feel scary, but you don't have to suffer alone.
"Working with Rebekah, I felt like someone finally heard me; I felt understood."
"After our sessions, I feel I know how to advocate for myself better, and I feel I have tools I can use to help myself and regulate my emotions."
"Our relationship feels so much easier and peaceful after starting therapy with Rebekah."
"I enjoyed that she didn't shy away from hard topics."
Reviews
Our clients' stories
Take your next step toward growth.