Chicago
Clinical License
Illinois LPC 178.018759
Supervising Clinician: Pamela Larkin, LCPC 180.009549
Education
M.A. in Counseling: Art Therapy, Adler University, Chicago, IL
B.A. of Psychology, Westminster College, New Wilmington, PA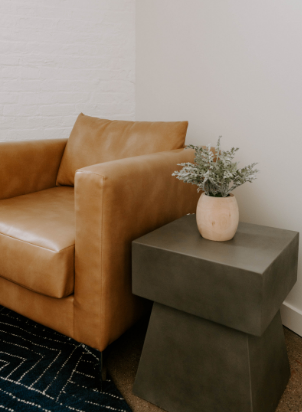 Specialities
Anxiety & Depression
Couples Therapy
Life Transitions
Loss & Grief
Re-assimilation & Culture Shock
Techniques
Dialectical Behavioral Therapy
Person-Centered Therapy
Art Therapy
Strengths-Based Therapy
Cognitive Behavioral Therapy
Mindfulness & Acceptance
My Approach
One of the greatest qualities you have as a human is the ability to be resilient through adversity and grow as a person.
In this season of your life, you may be feeling stuck and trying to figure out what to do next. You may be feeling emotionally exhausted, misunderstood, anxious, or discouraged. It can be hard to carry all this weight and feel it dragging you down. Or you may be in a season of change, where you need extra support as you navigate finding stability. Whether you have specific needs to build a healthier relationship, learn to love yourself, or process topics that are hard to bring up with friends or parents, therapy can be a place to support you. Therapy is a space where you don't have to worry about being judged for your past or current experiences. If you are interested in taking steps toward growth, healing, and discovery, you are in the right place.
Cross-cultural Considerations:
As an individual, couple, or family who is navigating a transition between cultures, you may be experiencing culture shock, difficulty building community, or anxiety with preparing to move. Navigating different cultural values can be challenging. If you are a veteran, have immigrant roots, a missionary, Third Culture Kid, an international student, in a bicultural relationship, or have other cross-cultural experiences, I'd love to support you in your journey.
"As a mother in family therapy with my daughter, Robert has helped us process her father leaving us. Doing art and play therapy together has helped my daughter open up about her feelings. I am always impressed with Robert's creativity and ability to help my daughter feel heard."
"Robert has walked with me through my journey of learning to love myself as I've been dealing with binge eating after losing my job. Robert's support has meant a lot. He's helped me to be more self-compassionate, build a healthier self-image, and find stability in my eating."
"When I started therapy with Robert, I had a hard time managing my anxiety and numbing my feelings. I've struggled with a chronic sleep condition since childhood and would get 0-4 hours of sleep each night. Through therapy with Robert, I learned how my anxiety was impacting my sleep and I learned coping skills to be more present with my feelings. I'm proud to say that I now get a solid 6 hours of sleep each night."
"Robert has supported me through my recovery from addiction. He helped me come to a place of acceptance and helped me identify my triggers. I've learned a lot from him. I now feel more confident because of the tools I've developed to help replace my old addictive behaviors."
"Robert is an amazing therapist that changed our lives as a married couple. He taught us how to clearly communicate our wants and needs but in the most patient way. He taught us how to use code words and how to communicate when we need space."
Reviews
Our clients' stories
Take your next step toward growth.