Roslyn Jordan
She/Her/Hers
Clinical License
Illinois LPC 178.014415
Supervising Clinician: Alexandra Hoerr, LCPC 180.010561
Education
M.A. in Mental Health Counseling, Trinity International University, Deerfield, IL
Certificate for Traumatology Training, Green Cross Academy of Trauma
Graduate Certificate, Spiritual Formation & Discipleship, Moody Bible Institute, Chicago, IL
B.S. in Industrial Relations, Concentration: Psychology, University of North Carolina, Chapel Hill, NC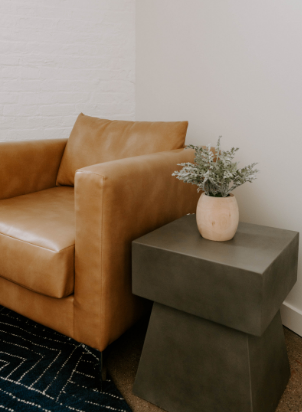 Specialities
Adulting & Responsibility
Anxiety & Depression
Artists & Performing Arts
Attachment & Family Of Origin
Childhood Trauma
Conflict Resolution
Faith Integration & Spirituality
Group Counseling
Helping Professionals
Leadership
Life Transitions
Loss & Grief
One Way Relationships & Codependancy
Therapy For Therapists
Techniques
Creative & Expressive Modalities
Narrative Therapy
Person Centered Theory
Psychodynamic Theory
Cognitive Behavioral Therapy
My Approach
There's nothing like a good story.
Especially one that inspires and moves us to live out the purpose for which we were created. We are all storytellers. We are all saying something to the world with our lives…the way we act, the way we think, how we use our strength and abilities, the way we engage the struggles and challenges we encounter day to day. All of these things impact the message we share with others.
So, what's your story? Are you getting caught up in the details that your overarching story is obscured?
Sometimes life can become dulled. You find yourself going through the motions. Experiencing relational conflict and avoiding difficult situations, you stuff your emotions, and get caught up in a cycle of negative self-talk, stuck and spiraling, going in circles.
At other times, life can be chaotic and overwhelming. You are struggling to maintain control, and metaphorically speaking, trying to hold all the balls under water. You exert lots of energy in the pursuit of people pleasing or trying to get it right or do everything perfectly, all while lacking a sense of identity and allowing your voice to be stifled.
Are you questioning your purpose, wondering if there's more to life than this, and searching for significance? If so, integrating story and purpose into your counseling experience could be a good idea.
"My family and I have been so blessed to have Roslyn walking through our journey with us. I personally, have learned about the difficult task of setting healthy boundaries and maintaining them."
"I don't if there are words that can accurately express my time in counseling with Roslyn. She always showed up and was present and listened to me. She was compassionate and kind and at the same time called me out when I needed it. She helped me process and experience the fullness of my emotions. I learned so much in our time together including how to know myself better and to be excited about the future, whatever it may hold. She is a wonderful counselor."
"Roslyn provided a safe place for me to explore my identity and self worth in the context of my faith and beliefs."
Reviews
Our clients' stories
Take your next step toward growth.