Ruth Nathaniel
She/Her/Hers
Denver
Clinical License
Illinois LPC 178.015866
Supervising Clinician: Alexandra Hoerr, LCPC 180.010561
Education
MA in Clinical Mental Health Counseling, Moody Theological Seminary, Chicago, IL
BA of Arts & Science in Neuroscience & Ethics in Life Sciences, University of Guelph, Guelph, ON, Canada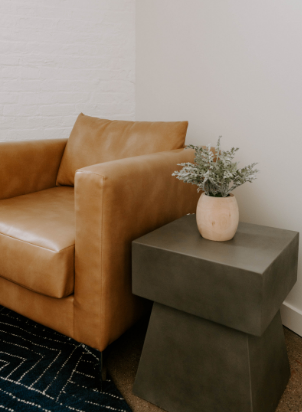 Specialities
Anxiety & Depression
Attachment & Family Of Origin
Enneagram
Life Transitions
Loss & Grief
Multi-cultural & International
Techniques
Existential Therapy
Mindfulness & Acceptance
Cognitive Behavioral Therapy
Person-Centered Therapy
Narrative Therapy
My Approach
Regardless of how you feel today, one of your greatest human qualities is your capacity for growth and increased awareness of who you are. You may have no idea where to start, or feel some resistance but are curious of what exactly therapy may entail. Alternatively, you may have specific goals such as practicing boundaries, addressing anxiety, or navigating a bicultural identity. In any of those cases, you'll be happy to know that therapy is a collaborative space that draws upon your experiences and goals, my knowledge and skills, and our shared humanity to produce real concrete change in your life. In other words, no feeling or situation is off limits and you're encouraged to bring it all into session.
Bicultural Considerations: 
As a bicultural person, you may be feeling a sense of 'otherness,' and it's difficult to feel like you're not fitting the spaces you're told you belong to. Navigating competing expectations with loved ones is messy! However, it is possible to gain clarity of your own personal values while also honoring the lineage you come from. If you resonate with this, know that you are worthy of support, and I'd love to meet you and walk alongside you.
"I was truly relieved to find a therapist who understood my South Asian culture, and was able to help me identify what my values were, and tell my own story. Ruth brings so much openness to our sessions, and I enjoy her insight." - ZH
"Ruth and I have been working together since her internship. I've been living with undiagnosed autism most of my life, and it seemed like no one understood me. But I leave our sessions feeling valued and with an increased ability to navigate my own emotions. She grounds me in session when I feel overwhelmed. " - LW
"I've been in and out of therapy many times, and I'm glad to have someone like Ruth on this journey. It was key to find a therapist who acknowledged my disability as a part of my identity. She is kind and direct, and takes the time to listen to my concerns. She helps me break things down so I can make sense of how I truly feel about things." - SC
Reviews
Our clients' stories
Take your next step toward growth.