Sarah Qualsett
She/Her/Hers
Chicago
Clinical License
Clinical Residency, June 2023-May 2024
Supervising Clinician: Alexandra Hoerr LCPC 180.010561
Education
Student M.A. in Clinical Mental Health Counseling, Wheaton College Graduate School, Wheaton, IL
B.A. in Psychology with minors in Child, Youth, and Family Studies and Communications, University of Nebraska-Lincoln, Lincoln, NE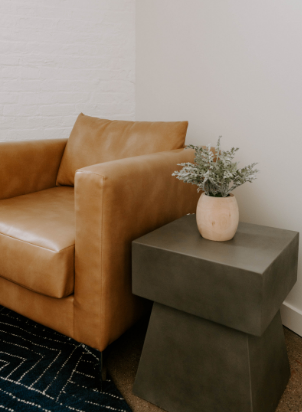 Specialities
Life Transitions
One Way Relationships & Codependancy
Dating & Romance
Religious Trauma & Church Hurt
Anxiety & Depression
Techniques
Acceptance and Commitment Therapy
Existential Therapy
Cognitive and Behavioral Therapy
Narrative Therapy
Family Systems Theory
Emotion-Focused Therapy
My Approach
As you sit today, an insurmountable amount of pressure, confusion, and anxiety may be acting against your ability to see yourself and the world with confidence. You may be thinking, "Who am I?" "Why is this happening to me?" or, "Where am I going?" While in a season of life that feels impossible to understand, your outlook on yourself, your actions, and your relationships may feel impossible to maintain. Perhaps you can't find a space to breathe. Feeling flooded with thoughts and emotions can be incredibly confusing, and craving a sense of clarity and groundedness is natural. Seeking how to be the person you believe yourself to be is something everyone goes through at some point in life.
"Sarah brings a calming posture and presence to each and every interaction. She helps create a space of genuineness that allows me to be myself and to be truly heard. I feel encouraged and cared for after working with her" - CS
"Sarah is a true light of hope and comfort. I appreciate how she always celebrates the highs of my life and walks with me through the lows." -AW

"Sarah genuinely connects to each human she encounters in such a unique way that makes them feel so cared for in her presence. I feel her authentic attendance to me by the way she offers a safe listening space and insightful questions throughout our conversations."-KH
"Sarah's passion for counseling and incredibly generous heart is evident in the way she listens. She holds the feelings of others in her hands with great tenderness and care, and creates a space where individuals can talk freely without experiencing judgment or fear." -MM
Reviews
Our clients' stories
Take your next step toward growth.