Sydney Kittrell
She/Her/Hers
Chicago
Clinical License
Clinical Residency, June 2022-May 2023
Supervising Clinician: Alexandra Hoerr LCPC 180.010561
Education
Student M.A. in Clinical Mental Health Counseling with Trauma Certificate, Wheaton College Graduate School, Wheaton, IL
B.A. in Psychology with minor in Environmental Studies, Furman University, Greenville, SC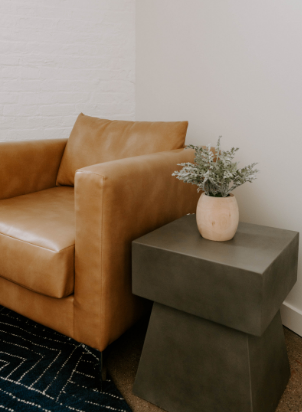 Specialities
Teenagers
Disordered Eating & Body Image
Childhood Trauma
Faith Integration & Spirituality
Gender Identity & Sexuality
Techniques
Cognitive Behavioral Therapy
Acceptance & Commitment Therapy
Person-Centered Therapy
Mindfulness
Attachment Theory
My Approach
Life will inevitably bring up intense emotions and feelings: shame, fear, confusion, etc.
Overwhelming pressure, life transitions, past trauma, or simply the burden of daily stressors can pile on you until it feels like the weight of the world is on your shoulders. Emotions are a normal part of the human experience but can quickly become overpowering. When overwhelmed, you may find it relatively impossible to maintain or initiate close relationships with family, friends, and significant others. This can create a vicious cycle of anxiety, isolation, and hopelessness. It can feel like you have no way out of this bleak season.
"Sydney has an undeniable passion for working with adolescents and facilitating growth every step of the way. Her ability to connect with people is truly inspiring and her energy is contagious." - KN
"Sydney exudes empathy and compassion in her interactions with others. She has demonstrated the ability to be insightful, thoughtful, and emotionally present in all situations." - AS
"Sydney is thoughtful, reflective, and warm. I left our time together as a more authentic and kind version of myself." - KC
Reviews
Our clients' stories
Take your next step toward growth.