Chicago
Education
M.A. Counselor Education, Specialization: Clinical Mental Health Counseling, Virginia Polytechnic Institute and State University, Roanoke, VA
B.A. in Psychology, Thesis: Attachment and Meaning Making, Northwest University, Kirkland, WA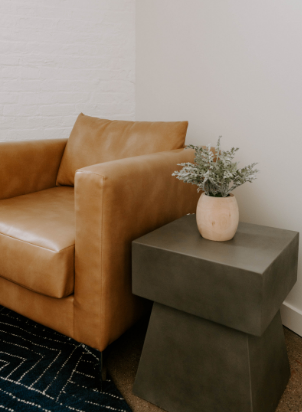 Specialities
Abuse & Neglect
Addiction & Urge Control
Adulting & Responsibility
Anger Management
Anxiety & Depression
Attachment & Family Of Origin
Childhood Trauma
Chronic Health Concerns
Conflict Resolution
Couples Therapy
Dating & Romance
Discernment & Divorce Counseling
Faith Integration & Spirituality
Family Therapy
Gender Identity & Sexuality
Helping Professionals
LGBTQIA+ & Queer Concerns
Life Transitions
Loss & Grief
Multi-cultural & International
One Way Relationships & Codependancy
Platonic Relationships
Porn & Sex Addiction
Racial Concerns & Trauma
Re-assimilation & Culture Shock
Religious Trauma & Church Hurt
Sexual Health & Functioning
Substance Misuse
Therapy For Therapists
Trauma & PTSD
Ukranian Speaking
Techniques
Existential Therapy
Relational-Cultural Theory
Feminist & Social Justice Theory
Emotion Focused Therapy
Mindfulness & Acceptance
My Approach
We are raised to believe life is simple, safe, and straightforward.Then there's a shift: difficult circumstances happen, pain and hurt become a reality. Challenging circumstances threaten our ability to move forward, and now you may be feeling stuck and hopeless. The world no longer seems simple.
We all encounter painful and overwhelming experiences, but it doesn't make the pain of them any easier to endure. When any situation arises, we create stories and narratives, helping us make sense of those experiences. Sometimes though, the internal story doesn't always serve us, leaving us feeling empty and disconnected from ourselves and others. The narratives we tell ourselves are supposed to add vitality to our lives, but pain and overwhelm can turn meaning making against us.
The meaning you've attached to your life matters and impacts the choices you make daily. Let's make sure you are an active agent in your own life. If you're looking to strive towards deeper realization, greater autonomy, and increased self-determination, then counseling could be for you.
"When I first met Viktor I was going through a difficult time. He was supportive, encouraging, and helped me to make sense of my experiences."
"I have been dealing with social anxiety for years. It would often limit my ability to pursue my interests. Through working with Viktor I've developed healthy coping skills and learned how to manage my anxiety."
"I've been struggling with low self-esteem, anxiety, and relationship issues most of my life. When I met Viktor I was hesitant about sharing my vulnerabilities. He was kind and supportive. He created a safe space for me to process my experiences and develop a stronger sense of self."
Reviews
Our clients' stories
Take your next step toward growth.