Alex Stewart
She/Her, They/Them
Chicago
Clinical License
Supervising Clinician: Alexandra Hoerr, LCPC 180.010561
Education
MA in Clinical Mental Health Counseling, Lindenwood University, St. Charles, MO
BA in Psychology and Criminal Justice, Iowa State University, Ames, IA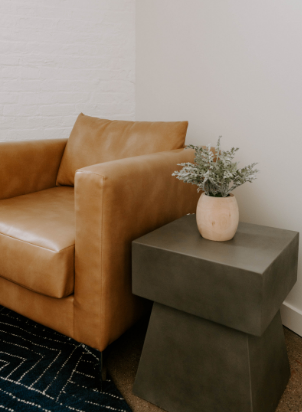 Specialities
LGBTQIA+ & Queer Concerns
Gender Identity & Sexuality
Racial Concerns & Trauma
Anxiety & Depression
Platonic Relationships
Techniques
CBT
Person-Centered Therapy
Feminist & Social Justice Theory
Solution-focused
My Approach
Walking down the path of self-discovery can have many obstacles– from self-doubt and past trauma to feeling misunderstood by those around you. These circumstances can leave you with a handful of feelings. Guilt, exhaustion, doubt, anxiety, and isolation– floating in a space where life may feel dull, empty, or even like someone else's. Such feelings can manifest themselves as anxious thoughts, loss of excitement, and prioritizing other's needs over your own Believing that you're the expert of your own story is where finding yourself and living the life you deserve begins.
"Thank you for helping me realize I get to set boundaries and that I deserve that space."
"You have helped me start to heal wounds that were buried deep in my heart."
Reviews
Our clients' stories
Take your next step toward growth.