Hadassah Carlson
She/Her/Hers
Clinical License
Colorado LPC.0019984, Supervising Clinician: Alexandra Hoerr, LPC.0016805
Illinois LPC 178.018087, Supervising Clinician: Alexandra Hoerr, LCPC 180.010561
Education
MA in Clinical Mental Health, Denver Seminary, Denver, CO
MA in Biblical & Theological Studies, Moody Theological Seminary, Chicago, IL
BA of Communications, Moody Bible Institute, Chicago, IL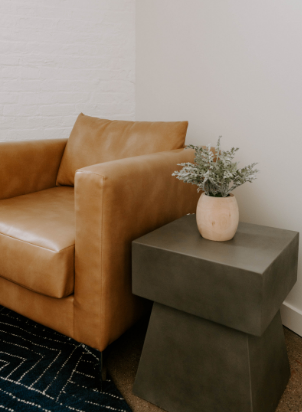 Specialities
Anxiety & Depression
EMDR & Prolonged Exposure (PE)
Religious Trauma & Church Hurt
Attachment & Family Of Origin
Trauma & PTSD
Techniques
Emotion Focused Therapy
Person-Centered Therapy
Narrative Therapy
Mindfulness & Acceptance
Cognitive Behavioral Therapy
Existential Therapy
My Approach
Life is hard. No one can make it through life without experiencing suffering. While suffering is part of the human experience, since it is personal and specific to each of us, it can feel lonely and isolating. Maybe you're feeling overwhelmed or burdened with what you've experienced in life. Maybe you're concerned that the trauma you've coped with will hold you back from a loving relationship or a successful career. You might be feeling lost or stuck, like you're not sure which way to go, or what to do to feel happy. Working through grief, isolation, and suffering helps filter what matters to you the most. While experiencing hope and joy is possible in the midst of an unpredictable life, how do you get from feeling overwhelmed or burdened, to feeling connected to the people around you? If you're trying to do this on your own, it's easy to feel stuck and incapable of making the changes you know you need. If you've been searching for a way to dig deeper, find connection, or gain awareness, then I'd urge you to reach out. I'll say it again, health and healing are for you. No matter your circumstance or your experience with therapy, getting started is courageous.
"I'm grateful for Hadassah because she helped me find the courage to look at the trauma I experienced and walked alongside me as I began to process my experience. Working with her helped me name my trauma and when I could name what happened to me, I began to heal and find redemption in my story." - AC
"Hadassah made me feel safe and cared for while I was in the middle of my addiction. I knew I could trust her and that she wouldn't judge me if I had relapsed. She accepted me as I was and that meant the world to me." - SB
"When I started meeting with Hadassah, I didn't know what to do to get myself unstuck. As I worked with Hadassah, I was able to identify cognitive distortions I had about myself and how those distortions affected every part of my life and contributed to my belief that I wouldn't succeed. As we unpacked those beliefs, I learned to identify what memories they were connected to and how to change my narrative so I could begin to take action in my life and believe that I could succeed. I'm so thankful for therapy and for Hadassah. I am learning how to be confident and believe in myself." - KC
Reviews
Our clients' stories
Take your next step toward growth.