Chicago
Clinical License
Illinois LPC 178.016516
Supervising Clinician: Alexandra Hoerr, LCPC 180.010561
Education
Master in Clinical Mental Health, Wheaton College Graduate School, Wheaton, IL
Bachelor of Applied Psychology, University of Illinois at Chicago, Chicago, IL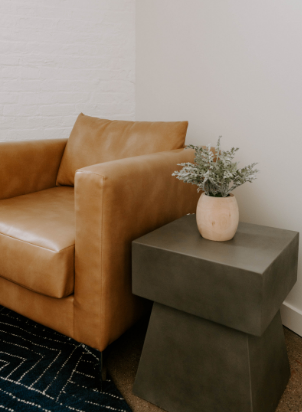 Specialities
Career & Purpose
Faith Integration & Spirituality
Leadership
Life Transitions
Multi-cultural & International
Anxiety & Depression
Techniques
Cognitive Behavioral Therapy
Solution Focused Therapy
Motivational Interviewing
Acceptance and Commitment Therapy
My Approach
Life can bring about transitions that are both expected, and unexpected. Examples of this can be a shift in your job, stepping in or out of a relationship, traumatic events, or moving to a new city. You may find yourself in a place of disarray, confusion, or uncertainty, which may result in anxiety, depression, or both. Major growth spurts often feel incredibly challenging when they're happening! Certain changes can be good, while others tragic. Yet even then, the right approach to handling that change can lead you to experience positive personal growth. My hope is that together, we can work towards that type of growth for you. Starting this process can be intimidating but taking the first step gets you that much closer to your final destination.
"I appreciate how Fallyn helps me in my ambivalence. I walk away from our sessions with a clearer idea of what I want."
"I love how much Fallyn digs to find the roots! She doesn't just let things be passing comments, she asks questions and helps guide self-reflection on where thoughts, feelings, comments are stemming from. I also love how she has practical applications! She was so good at sending me resources, whether it be articles, worship songs, or anything in between. She also had the perfect amount of empathy! I could tell she really cared about getting to know me personally and always made me feel open and heard."
"Fallyn actively listens to me and I always feel like I can truly be myself. I do not have to hide who I am."
"I have struggled with anxiety and negative thoughts. Fallyn's suggestions have been very helpful for me and find myself using thought journals daily."
"Fallyn helped me recognize the mental glass ceilings I had created for myself. Through our sessions together she helped me tear that down. I'm so appreciative of our shared time together."
"Fallyn is a great listener. She's not patronizing nor is she dismissive. She has all the intangibles when it comes to therapy. Having a Mexican-American therapist was so important for me to feel comfortable to bring up the complexities of immigration and identity. Even knowing it on a superficial level was extremely beneficial in allowing myself to be open and honest without a fear of misunderstanding."
"Yes, it was easy to be honest and a comfortable setting irl. Fallyn is thoughtful, an active listener and genuinely cares. I learned how to use and apply different tools to address issues/problems. It helped me see my world in a brighter way." - YR
"I had never done any therapy and wanted to give it a shot during quarantine in a remote environment. I have really enjoyed the insightful and intelligent conversation that I have had with Fallyn who has shown me the value in therapy."
"Fallyn gave me a safe space to show up to each session and be able to be vulnerable/ my true self. She tied in spirituality into healing, coping, etc and helped me come out of a very hard period of my life. There were times when I felt isolated from the people that I cared about, and she was there to host extra sessions when I needed it to help me cope with my depression and anxiety. She gave me great resources to read outside of therapy and recommended specialists when needed. I've recommended her services/therapy to every person I know as this was life changing for me."
"Fallyn helped me through my depression, major life changes, and OCD diagnosis. She was non-judgmental and compassionate throughout our sessions, and she gently pushed me when I needed it. During our sessions, Fallyn pointed me to practical resources, provided framework for productive reflection, taught me practical strategies, and helped me to exercise self-compassion. I really felt that she was doing everything possible to help me feel better."

"Fallyn was excellent with active listening, understanding, and asking questions that made me better understand what I was going through. She was awesome at finding root causes as well as coping techniques that really worked for me. She was always compassionate, easy to open up to, and a safe person to talk to."
"Fallyn has guided me in stabilizing my life. I really appreciate Fallyn's open listening skills and sharing of knowledge. It was very helpful how she could put a name to what thought pattern I was having or behaviors I was experiencing."
"I love how I can share anything with Fallyn. I also love how she often helps me figure out how to resolve the issues I am going through and has given me lots of structured strategies and tools for coping that I have been able to apply on my own outside of therapy."
"I enjoyed the resources that Fallyn shared. She encouraged me to continue to do the workout side of our sessions while also letting me know that its okay if I wasn't always feeling up to it."
"Fallyn is a very thoughtful and understanding listener; she is great at seeking clarification and mirroring back what she's hearing from me."
"Fallyn has been great! I'm new to therapy and it has been amazing working with her to tackle my problems and learning new tools to help cope with them and learn how to better love myself. Fallyn has been great in allowing me the flexibility to talk about anything that I want to address each session while also highlighting areas to work on"
"Fallyn has done an excellent job of structuring sessions to focus on my goals and asking difficult and thought-provoking questions that challenge negative/unhealthy thought patterns. I have been to a few therapists in the past however, I really feel seen and heard by Fallyn. She provides a judgment-free zones where I feel like I can be myself and bring the issues that I am struggling with. I feel like I have really grown and have become more self aware in such a short time."
"Fallyn has been great! I'm new to therapy and it has been amazing working with her to tackle my problems and learning new tools to help cope with them and learn how to better love myself."
"I really enjoy Fallyn's abilities to bring Psychology frameworks and visuals into our sessions. Being someone who thinks in imagery, I have had a lot of "a-has" with that methodology. I also appreciate her willingness to try new things in sessions, i.e., meditation, prayer, etc. based on what is needed at the time. I feel valued, cared for, and understood in our time together."
"Learned a lot and would return if further services are needed. Excellent quality of service. She was very personable and felt comfortable enough to be transparent about the things that were bothering me in life. She listened and I felt I was not judged"
Reviews
Our clients' stories
Take your next step toward growth.